Hossein Sadeghi-Nejad, MD, Ricardo Munarriz, MD,and Neel Shah, MD
A B S T R A C T
Introduction. Robotically assisted laparoscopic radical prostatectomy (RALP) provides decreased surgical morbidity and faster recovery for patients, but has not significantly changed the incidence of erectile dysfunction and many post RALP patients may require penile prosthesis surgery.
Aim. To make physicians aware of the anatomical changes after RALP in comparison to traditional retropubic radical prostatectomy and to make suggestions for safer reservoir placement.
Main Outcome Measures. Reservoir location after RALP.
Methods. A 68 year-old patient with severe vasculogenic ED refractory to pharmacologic management following RALP underwent a 3-piece penile prosthesis insertion surgery and laparoscopic right lower abdominal hernia repair. Laparoscopy revealed an intraperitoneal reservoir that was overlying the sigmoid colon with multiple diverticula. The reservoir was laparoscopically repositioned in the dependent pelvis away from the diverticula and the pelvic vessels.
Results. The patient's postoperative course was uneventful without any postoperative complications (2 year follow up).
Conclusions. The altered anatomy of the space of Retzius following RALP will likely result in significantly more cases of inadvertent intraperitoneal reservoir placement. Surgeons performing inflatable penile prosthesis surgery should be aware of these anatomical changes and prepared to consider ectopic reservoir placement when necessary. Sadeghi-Nejad H, Munarriz R, and Shah N. Intra-abdominal reservoir placement during penile prosthesis surgery in post-robotically assisted laparoscopic radical prostatectomy patients: A case report and practical considerations. J Sex Med 2011;8:1547–1550.
Keywords. Penile Prosthesis Surgery; Robotic Prostatectomy; Reservoir Placement; Prostate Cancer Sexual Dysfunction
---
Introduction
Prostate cancer is the most common cancer in American men with an estimated 192,820 new cases in 2009. Radical prostatectomy is an effective treatment in men with clinically localized prostate cancer and life expectancy greater than 10 years. Traditionally, this operation has been performed as open radical retropubic prostatectomy (RRP) or perineal prostatectomy.With the advent of laparoscopic and robotic technology in urological surgery, laparoscopic prostatectomy (LAP), and robot-assisted laparoscopic prostatectomy (RALP) have become the preferred surgical techniques for radical prostatectomy at many institutions. RALP provides excellent magnification and faster recovery for patients, but has not significantly changed the incidence of erectile dysfunction (ED) and many post-RALP patients may require adjunctive therapies to restore erectile function [1,2]. More specifically, as compared with RRP, RALP has been associated with decreased intraoperative blood loss, blood transfusions, and hospital stay. However, the positive effect of RALP on functional outcomes, including urinary incontinence and ED, are not as clear [2,3]. Thus, many post-RALP patients may require adjunctive therapies to restore erectile function such as inflatable penile prostheses and the latter have been associated with high patient satisfaction rates [4]. Other investigators have described open retropubic radical prostatectomy and RALP in patients with pre-existing penile prostheses [5,6]. Anatomical alterations that may occur after transperitonealRALPcould affect placement of the reservoir, leading to increased reservoir-related complications. The aim of this case report is to highlight these post-RALP anatomic changes, alert the reader to the higher likelihood of inadvertent intraperitoneal IPP reservoir placement following RALP, and to make suggestions for alternative reservoir placement techniques when indicated.
Methods
A 68-year-old patient with severe vasculogenic ED refractory to pharmacologic management following RALP underwent a three-piece penile prosthesis (Coloplast Titan) surgery through an infrapubic incision. Laparoscopic right lower abdominal hernia repair immediately followed the IPP surgery. Laparoscopy revealed an intraperitoneal reservoir that was overlying the sigmoid colon with multiple diverticula (Figures 1 and 2). The reservoir was laparoscopically repositioned in the dependent pelvis away from the diverticula and the pelvic vessels.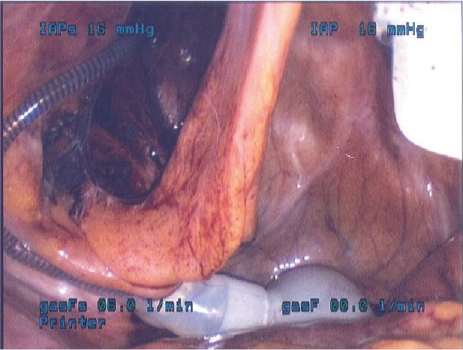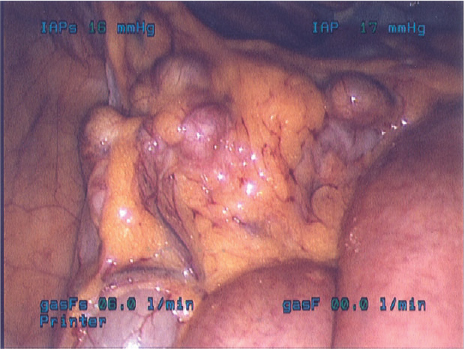 Results
The patient's postoperative course was uneventful without any postoperative complications. The penile prosthesis remains fully functional with a 2-year follow-up.
Discussion
The altered anatomy of the space of Retzius following RALP will likely translate into significantly more cases of intraperitoneal reservoir placement than seen prior to RALP popularization. Both the extraperitoneal and transperitoneal approach have been used with success for RALP. The advantages of the extraperitoneal approach include avoidance of the peritoneal cavity, isolation of the pelvis in case of an anastomotic leak, and a more facile approach in patients with a history of prior abdominal surgery. In contrast, limitations of this approach include confinement to a smaller surgical working space. This in turn may lead to increased CO2 absorption and increased tension on the vesicourethral anastomosis as the bladder remains attached to the urachus [1]. In the transperitoneal approach, after the peritoneal cavity has been inspected, a transverse peritoneal incision is made from the right to the left medial umbilical ligament. The medial and median umbilical ligaments are then transected and the extraperitoneal space is developed. Following the removal of the prostate the peritoneal veil is not reestablished. This maneuver permits the bladder and prostate to fall back facilitating the anastomosis. However, it is also this very dissection that may lead to anatomical changes that could complicate reservoir placement. Specifically, the effective obliteration of the retroperitoneal Space of Retzius dramatically increases the chances that the reservoir placement will be intraperitoneal. Intraperitoneal reservoir placement was practiced in many European countries without significant sequelae to eliminate autoinflation of the IPP. Despite this history, we believe intra-abdominal placement of reservoirs may potentially result in bowel injury due to adhesions to the pubic bone or development of peri-reservoir hernias. Indeed, there are isolated case reports of reservoir erosion into the bowel or peri-reservoir small bowel obstruction [7–9]. Furthermore, during attempted blind placement of the reservoir in the paravesical space, inadvertent bowel injury to segments adherent to the pubic bone may be unavoidable. Additionally, division of the urachus in the intraperitoneal approach could alter the normal anatomical location of the bladder, resulting in a more dependent position in the pelvis. Although our reported case does not address any adverse events related to the bladder, this difference in technique may lead to reservoir placement directly on top of (instead of lateral to) the bladder, leading to a potentially increased risk of intravesical erosion. In our particular case, after discussion with the general surgery team, it was decided that repositioning of the reservoir away from the extensive diverticula is advisable since in case of an unrelated diverticulitis in the future, direct contact of the reservoir with the affected segment of bowel could potentially lead to more exaggerated symptoms or complications.
To decrease the chances of adverse events, if the operating surgeon determines that paravesical, retroperitoneal reservoir placement will be difficult, different options exist for management of the reservoir: (i) Placement of a semi-rigid penile prosthesis or two-piece penile prosthesis to obviate the need for abdominal placement of a reservoir. Many surgeons and patients, however, prefer the cosmetic advantages of the three-piece IPP as compared with the semirigid and two-piece inflatable implants. (ii) Ectopic reservoir placement in a high, lateral retroperitoneal location, or, alternatively, an epigastric location [10]. This approach requires two incisions and future reservoir retrieval may be more difficult. (iii) Ectopic or intrafascial abdominal wall reservoir placement. This technique has been reported in patients after cystectomy, renal transplantation, or severe pelvic crush injuries [11]. The procedure can be performed through the same incision and will prevent intraperitoneal reservoir placement. This reservoir placement may be palpable in the slender patient, but flat reservoirs and low-profile reservoirs currently under development will minimize this problem in the near future. It should be noted that the non-intraperitoneal ectopic reservoir will be "protected" from premature wear by a surrounding capsule. Furthermore, lock out valves in some existing reservoirs prevent the abdominal wall pressure from causing irksome autoinflation. The capsule will also provide added protection against auto-inflation. (iv) Subcutaneous reservoir placement may also be considered with the low-profile or flat reservoirs, although reservoir herniation into the inguinal or scrotal space may occur [12]. The recently published "Surgical Techniques" by Perito and Wilson illustrates these approaches [13]. Surgeons performing penile prosthesis surgery on patients who have had RALP should be aware of the higher likelihood of intraperitoneal reservoir placement.
Corresponding Author: Hossein Sadeghi-Nejad, MD, Division of Urology, UMDNJ New Jersey Medical School, 185 South Orange Avenue, MSB G 536, Newark, NJ 07103-2714, USA. Tel: (973) 972-4488; Fax: (973) 395-7197
Conflict of Interest: None.
Statement of Authorship
Category 1
Conception and Design Hossein Sadeghi-Nejad; Ricardo Munarriz; Neel Shah
Acquisition of Data Hossein Sadeghi-Nejad; Neel Shah
Analysis and Interpretation of Data Hossein Sadeghi-Nejad; Neel Shah; Ricardo Munarriz
Category 2
Drafting the Article Hossein Sadeghi-Nejad; Neel Shah; Ricardo Munarriz
Revising It for Intellectual Content Hossein Sadeghi-Nejad; Neel Shah; Ricardo Munarriz
Category 3
Final Approval of the Completed Article Hossein Sadeghi-Nejad; Neel Shah; Ricardo Munarriz
References
Atug F, Castle EP, Woods M, Srivastav SK, Thomas R, Davis R. Transperitoneal vs. extraperitoneal robotic-assisted radical prostatectomy: Is one better than the other? Urology 2006; 68:1077–81.
Parsons JK, Bennett JL. Outcomes of retropubic, laparoscopic, and robotic-assisted prostatectomy. Urology 2008;72:412– 6.
Tal R, Alphs HH, Krebs P, Nelson CJ, Mulhall JP. Erectile function recovery rate after radical prostatectomy: A metaanalysis. J Sex Med 2009;6:2538–46.
Hellstrom WJ, Montague DK, Moncada I, Carson C, Minhas S, Faria G, Krishnamurti S. Implants, mechanical devices, and vascular surgery for erectile dysfunction. J Sex Med 2010;7 (Pt 2):501–23.
Deho F, Salonia A, Briganti A, Zanni G, Gallina A, Rokkas K, Guazzoni G, Rigatti P, Montorsi F. Anatomical radical retropubic prostatectomy in patients with a preexisting three-piece inflatable prosthesis: A series of case reports. J Sex Med 2009;6:578–83.
Erdeljan P, Brock G, Pautler SE. Robot-assisted laparoscopic prostatectomy in patients with preexisting three-piece inflatable penile prosthesis. J Sex Med 2011;8:306–9.
Leach GE, Shapiro CE, Hadley R, Raz S. Erosion of inflatable penile prosthesis reservoir into bladder and bowel. J Urol 1984;131:1177–8.
Luks FI, Huntley HN, Tula JC, Pizzi WF. Small-bowel obstruction by an inflatable penile prosthesis reservoir. Surgery 1989;106:101–4.
Singh I, Godec CJ. Asynchronous erosion of inflatable penile prosthesis into small and large bowel. J Urol 1992;147:709–10.
Riemenschneider HW. Epigastric placement of reservior for inflatable penile prosthesis. Urology 1981;17:79–81.
Wilson SK, Henry GD, Delk JR Jr., Cleves MA. The mentor Alpha 1 penile prosthesis with reservoir lock-out valve: Effective prevention of auto-inflation with improved capability for ectopic reservoir placement. J Urol 2002;168 (Pt 1):1475–8.
Sadeghi-Nejad H, Sharma A, Irwin RJ, Wilson SK, Delk JR. Reservoir herniation as a complication of three-piece penile prosthesis insertion. Urology 2001;57:142–5.
Perito PE, Wilson SK. Traditional (retroperitoneal) and abdominal wall (ectopic) reservoir placement. J Sex Med 2011;8:656–9.